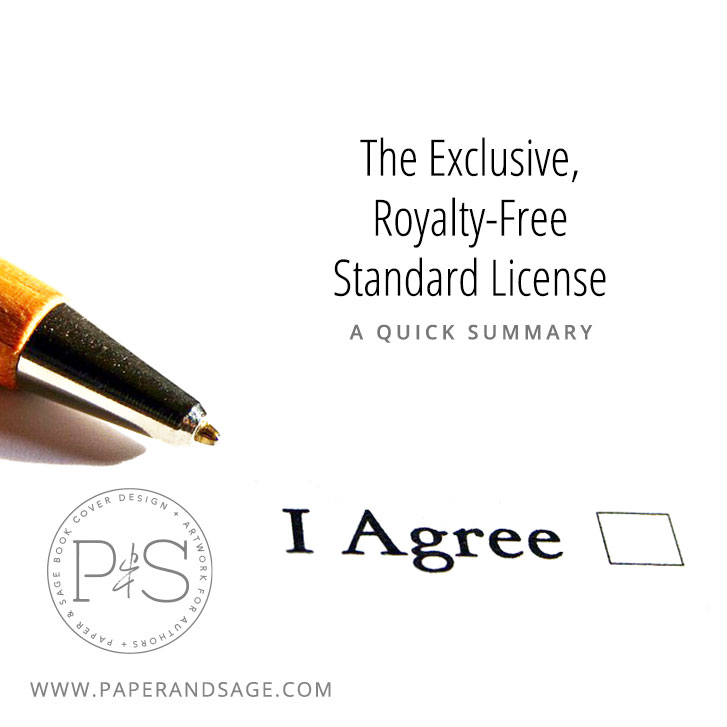 All covers at Paper & Sage are released under our Exclusive, Standard Royalty-Free License. 
The following is a quick summary of those terms. This summary is not the applicable, legally binding document (see TOS for that).
Cover designs can be used by the client for promotional and/or marketing materials.
Cover designs can be resized for promotional and/or marketing materials. However, a cover should not be resized beyond a 50% increase of the full-sized file provided by Paper & Sage. (This will create visual problems such as graininess or pixelation. If you need a larger version of the cover, let us know instead).
Exclusive rights are granted to the client for use of the final, approved cover. Covers are never re-sold to another client at Paper & Sage.
NO use by third-parties without prior approval by Paper & Sage. In other words, if you are contacted by someone else (for example, a publisher or audiobook company), that plans to use and/or adapt the cover design, please get in touch with us about the opportunity so we can discuss how best to proceed.
NO alterations can be made to the approved version of the cover. The only exception is the possible addition of an award badge (such as Reader's Favorite) that can be placed on the front cover. (Of course, if you'd like us to place the badge instead, just ask!) This is due in part to stock company licensing rules (see FAQ and full TOS for more).
 The client will abide by any licensing associated with stock images included in the cover design. Since Paper & Sage maintains a subscription with more than one company, please contact us for specifics on the design for your title.
Attribution for the design ("Cover design by Paper & Sage") should be included in the front matter and/or on the back cover.
Paper & Sage retains the rights to use the title, pen name and design for the cover in promotional or marketing materials.